Heya fellow Trekkers!
Redid my TOS.5 E, and for those of us that enjoy this type of thing, here is the first scenography to come of her.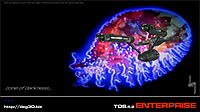 For the record:
This is just a quickie shot after finishing up the LightWave conversion of my E. Always loved this esp.
The space amoeba is a digi-picture I shot off my HD TV while playing the video tape of the original (not remastered) eps. I thought about trying to (re)do the effect myself, but then decided I would never be able to do it as well as Frank Van Der Veer did. That is such an amazing effect, IMO. One of the best in TOS VFX history, IMO.
I had to blur it a touch due to video play-back/taking a pic of the screen/digi-artifacts, but I figure it just works as some DOF in a pinch. After all, it is 11,000 miles across, and even a planet looks a touch blurry from space. That's my story anywho, LOL. Hadda make do with what I had, as it was just a quickie, as I get itchin' to make art after doing all the model tech stuff for so long to get her lookin' good. Much more to come.
Hope you enjoy, and thanks for lookin'.
The "model" shots:
View: 3/4 Fore
View: 3/4 Aft
View: Port
View: 3/4 Aft Ventral
View: 3/4 Fore Dorsal
Note: There are lots more scenography (and stats & orthographic) shots being added throughout the thread as I get them done.
deg