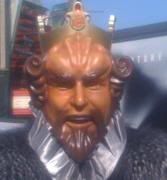 'Anyone planning to make one of these masks?
It cannot be hard to take a standard (full head version) evil BK mask, remove the mustache, darken the beard and hair and add a Kling forehead. It's haunting, but of course it would just be for comedy appearances and parties.
If I was the Director of Marketing at Burger King, I'd sell these masks as I'm sure they would sell a lot throughout this summer.
Anyone hear of BK planning to sell these?
If not, they will be more rare, as only fans will make 'em
coffee cheers from Northern CA to all Trek fans!