| | |
| --- | --- |
| martok2112 | 01-18-2011 09:09 PM |
---
Another test shot for my upcoming YouTube Galactica series....

Here's another test shot....Colonial Warriors on Desert Planet. This time, as you'll notice, they're sporting blaster rifles. (All I did was elongate the barrel detail and enlarge slightly the back detail of the Colonial Blaster Pistol, and add a scope and bullpup mag slot). The rifles are designed to have removable bullpup styled magazines, and the electronic scope on the rifle will have a surface on the eyepiece side which can display video of the target.
This could be a shot from an upcoming episode, but for now, I just thought it was the ideal place to show off an exploratory team sporting heavier firepower. :)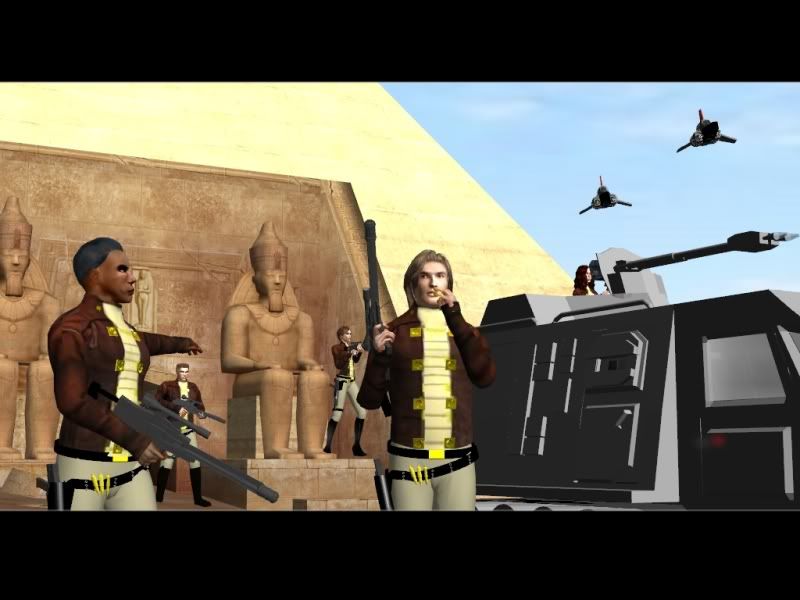 | | |
| --- | --- |
| Saquist | 01-19-2011 04:50 AM |
---
I see you're keeping it the original Galactica style.
| | |
| --- | --- |
| kevin | 01-19-2011 09:11 AM |
---
Nice........where the Dirk Benedict-alike come from? Was that a figure you had to create or one you could put in the frame?
| | |
| --- | --- |
| martok2112 | 01-19-2011 10:16 AM |
---
Indeed, Saquist. :) Most of my online friends who are into Galactica are into the classic series. However, if my upcoming YouTube series proves popular enough, I may tackle my more ambitious Galactica project...another retelling of the fall of the Colonies and the exodus called "Galactica: The Last Battlestar" which blends elements of both the original and new series in such a way that it works....and one that doesn't incense fans of either show. :)

Kevin, believe it or not, that is the default face for the avatar Jack Casual in iClone. Surprisingly enough, it turned out to look just enough like the original Starbuck that I just left it alone. :)

iClone does have the ability though to graft photos of faces onto the avatars. (The female character I have standing on one of the statue blocks at the pyramid is based on Natalie Portman, and the female character I have on the landram's gun turrets is based on Ellen Page).
| | |
| --- | --- |
| martok2112 | 01-19-2011 11:34 AM |
---
And now, here's another quickie test video (with sound effects) testing out the swivel turret and laser effects on a moving landram. It's Starbuck and Athena. Oh, noes....they are being attacked by Cylons.
This video will also demonstrate that the shadows do not work so perfectly. I hope this is something iClone can rectify in a future update/version.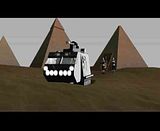 All times are GMT -8. The time now is

02:27 AM

.
Powered by vBulletin® Version 3.6.8
Copyright ©2000 - 2014, Jelsoft Enterprises Ltd.
Copyright © 2009 by Paramount Pictures. STAR TREK and all related
marks and logos are trademarks of CBS Studios Inc. All Rights Reserved.