| | |
| --- | --- |
| martok2112 | 01-01-2011 08:50 PM |
---
My improved Colonial Viper

And here are two videos (quickie tests) of my Colonial Viper.
The first one, in space, is a smaller version of the Viper, for those distant combat and flight shots. There's a smaller pilot in there, with a bare-bones cockpit, so it doesn't look like the ship is flying itself. :)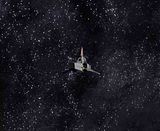 And this is the larger, actor-scaled Colonial Viper for close ups. She has a full fledged cockpit (which was part of the Starship Construction pack from Reallusion.) As soon as I learn how to script animations for iProps, I'll make a more accurate canopy, but for now, this one suits the purpose just fine. :)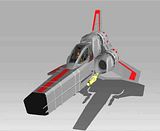 | | |
| --- | --- |
| kevin | 01-02-2011 07:34 AM |
---
They look pretty good. I liked how they didn't change too much from 70s to 00s BSG overall.
| | |
| --- | --- |
| martok2112 | 01-02-2011 09:40 AM |
---
Yeah, that was something that kinda split the hardcore TOS fans down the middle. Some hardcore TOS Galactica fans despised the new show...period...others at least recognized that the Viper looked similar, if not exactly the same. In the original miniseries of the new show, if you looked at the gift shop that was converted over from a hangar bay, you'd see an original series Colonial Viper in the background, as well as several other original series ships and/or items. The one that sticks out the most is right in your face on the establishing shot, the original series Cylon Centurion.
| | |
| --- | --- |
| martok2112 | 01-02-2011 11:48 AM |
---
Had to make some slight modifications to my build as I reviewed it...
Tried rounding out the nose hull a little more so it didn't look quite so blocky....ugh.....horrible iClone build memories coming back....shudder.
Added on some landing gear to the actor scale Viper. (The largest version of the Viper that uses full sized avatars.) The landing gear is kept separate so that I can have them on or off, depending on the context of the scene (in flight or landed)... and I can even animate them to raise or lower. The animation is strictly a key-framing task though, as I still don't know how to do AML script yet.
All times are GMT -8. The time now is

09:17 PM

.
Powered by vBulletin® Version 3.6.8
Copyright ©2000 - 2014, Jelsoft Enterprises Ltd.
Copyright © 2009 by Paramount Pictures. STAR TREK and all related
marks and logos are trademarks of CBS Studios Inc. All Rights Reserved.